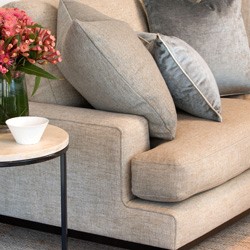 Lounges and Chairs
Custom made classic or contemporary sofas. We'll help select a style, fabric and size to suit your home. We have a huge range of fabric choices & can organise a visit to the manufacturer to fine tune the exact dimensions and type of cushioning for your comfort. If needed, an innerspring sofa bed mechanism can be added to most lounges. We then manufacture and deliver to your home. Image shows a lounge in Mokum Sahel, colour Seasalt with vintage velvet cushions.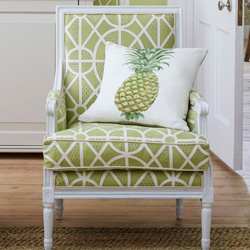 Reupholstery
Our award winning upholsterer can bring your special pieces back to life. We'll quote, help select a fabric from our huge range, pick up, reupholster & deliver the finished piece. When do you reupholster?... when the chair or lounge is really comfortable, you love the style, or the piece has sentimental value. Please contact us to check if we service your area. Square back Louis chairs covered in Sanderson Garden Plan fabric colour Garden Green, cushion in Sanderson Pineapple Royale.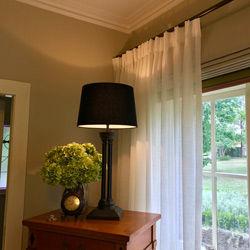 Curtains and Fabric blinds
We'll measure, assist you with choices of styles, tracks, linings, & designer fabrics from our huge fabric library. Your custom designed curtains or blinds are then made & installed, to create the look you want… whether it's contemporary, or Hamptons, or elegant classics for a period home, or a look you've loved in a magazine… even stylish, low cost styles for an investment property. With the right choices you'll create the wow factor, reduce energy costs & increase the value of your home.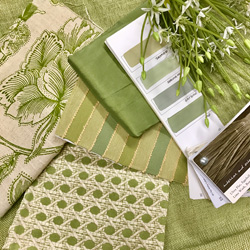 Fabrics
We have one of the largest ranges of designer fabric samples in Sydney. If you'd like to use us to make your curtains, blinds, lounges, cushions, or simply want to purchase fabrics from us, we're happy for you to browse our fabric library, or we can assist with your search… but it's wise to make an appointment. We can help coordinate fabrics for your purchases from us, or if we can't find suitable fabrics, we can direct you to our wholesale suppliers who'll help you find the right fabric.
There is a lot more we will be putting up on this page in the coming months. There is information coming about our amazing Plantation shutters, our Verosol screen blinds, our custom bed linen and many more products .....